Procedural Tileset Generator
UPDATE:

The generator now has the ability to export and preview tilemap templates for Godot autotile. Here are a few examples:

About

The Procedural Tileset Generator is a HTML5 tool for generating randomly generated pixelart. The tool can be used for brainstorming, or for actually generating pixelart for games.

The default color palette loaded is Sweetie 16.

How to use the tool
Load the desired color palette as a PNG image. You can pick another palette from lospec or from any other image (50 colors max), or just use the default palette.
Select your desired tile size, outline type, and other settings.
Right click to create new tiles until you find something you like.
Left click a tile to mutate it into more variations of itself. You can mutate the same time multiple times until you find a particular color/outline or other detail you want. You can also mutate colors or shape separately by pressing C and V.
Middle click/Z while hovering to add or remove a tile from the tileset. A complete tilemap for Godot autotile can be generated by pressing X over a tile. The tiles are aligned according to the generic Godot tilemap template. The tilemap details can be randomized by pressing S while hovering over it, and the tilemap edges can be adjusted by pressing A.
Export the tileset once done.
Export format

Tilesets are exported as lossless .PNG images, with the tiles laid out in 12 column wide rows (+12 more columns if "outline in background" is used).

There are multiple ways to handle outlines between tiles in pixelart. The outlines can either be between each tile, or behind the tiles and only visible outside the tile edges.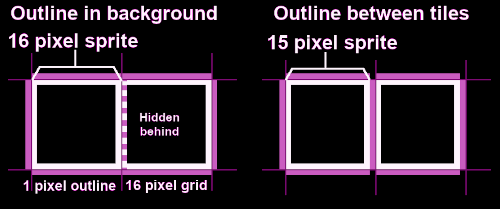 In the tilesets, tiles are spaced out by tile size + 3 pixels. If the tile size is 24 pixels, the spacing is 27 pixels. This is to account for a 1 pixel outline on one or both sides of the tile. In addition, a 1 pixel spacing is added to avoid texture bleeding between tiles.

For example, 24 pixel tiles would have an actual size of 26 pixels, drawn with a step of 24 pixels ingame. In the tileset, the tiles are spaced out by 27 pixels in the following format:

Outline between tiles:
Outline 1 px, Tile 23 px, Outline 1 px, Spacing 2 px, Outline 1 px, Tile 23 px...
Outline in background:
Outline 1 px, Tile 24 px, Outline 1 px, Spacing 1 px, Outline 1 px, Tile 24 px...
Illustration (you can download the image and use a 27 pixel grid to see the tile alignment):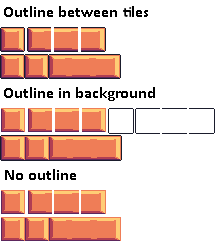 Examples

I've created a number of example tilesets using this tool, and sample maps using the Tiled map editor. The samples are shown in the screenshots ->

Development

The inspiration of this tool came from the time spent developing The Infinite Armada spaceship generator. I knew it could be done much better, so I wrote an improved version of the spaceship generator. I even tried out exporting 3D models of the spaceships: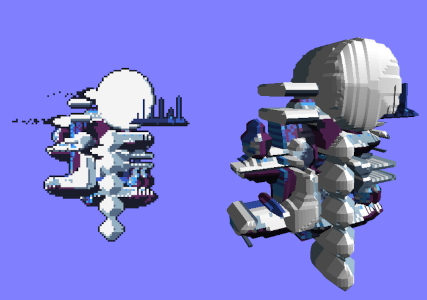 The experiment was successful, but it's not very useful. It's a neat proof of concept, but that's not all procedural generation is. Instead I decided to create something actually useful: A tool for generating simple tiles.
How it works

The tool works through a combination of pre-made sprites and random operations. The sprites act like templates, and are merged, spliced, rotated, cut and so on. A random heightmap is created for each sprite. Details are additional smaller sprites combined with the base template using a wide variety of different joining operations.

The loaded color palette is transformed into a series of different tonal ranges per color. A series of different materials are created with a large number of randomly generated parameters for things such as shadow strength, color index, dithering and bumpmaps.
The materials are randomly assigned to the different sprites. In addition the materials can apply bumpmaps and colors based on a number of patterns:


Finally the sprites are rendered pixel by pixel using a combination of raycasting for shadows and 2D rasterization. Lighting is calculated per pixel based on the sprite heightmaps. Tiles are tiled by padding the edges and wrapping shadows.

New variations of existing tiles are created using principles from genetic algorithms by randomly mutating their chromosomes (the ~2KB parameters defining a tile). The chance of producing the same tile twice is astronomically low, although you may recognise some of the more obvious base templates.

Attribution

The tool uses a few open-source libraries.
For PNG exporting and importing, UPNG is used with the pako dependency:
https://github.com/photopea/UPNG.js/
https://github.com/nodeca/pako
For doing conversions between the RGB and CIELAB color space, code from color-convert is used:
https://github.com/Qix-/color-convert
For comparing colors, the Delta-E 1984 algorithm is used, through code adapted from https://github.com/zschuessler/DeltaE

Hope you find it useful! Please report any bugs you find.
Featured artworks:

Here are some great artworks produced with the aid of the generator: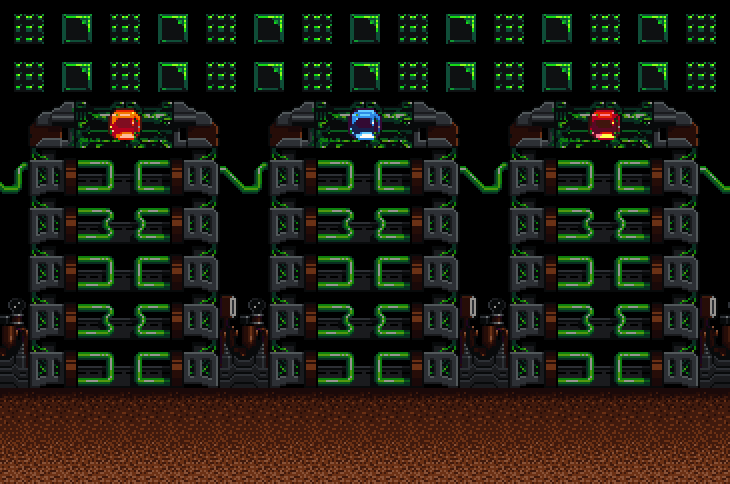 by androidlove.